5. Rodger Buddy vibration reminder watch - OUT OF STOCK
---
5. Rodger Buddy vibration reminder watch - OUT OF STOCK
£38.00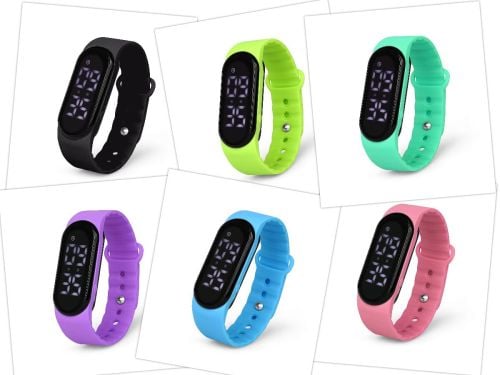 The Buddy Vibration reminder watch is so cool that nobody can see that it also has a special vibration reminder function. Buddy has a digital LED screen and is resistant to splashing water.
Easy charging with Micro-USB
Available in 4 fun colours
Set up to 8 alarms per day
Interchangeable straps
Does your child need a reminder to go to the toilet or to take medication?
Almost potty-trained but still little accidents?
Buddy provides your child with vibration reminders at set times throughout the day. Set-up to 8 alarms per day to remind your child to:
Go to the toilet, Attend music lessons, Take medication, Attend football training
Buddy has a soft strap and is designed for small wrists.
Colours: black, blue, pink, turquoise.
Alarms: Up to 8 alarms per day
rechargeable with Micro-USB
For toilet reminders, set the alarm to vibrate; before the school bell goes, morning break, before and after lunch, afternoon and immediately after school ends. No more excuses! "When Buddy starts to vibrate, I need to go to the toilet"
Details:
Strap length: 8,6 inch
Size: 0,8 x 0,6 x 0,5 inch
Screen: LED
Please note this watch is not waterproof. It will withstand splashes from hand washing or the rain, but do not submerge this watch in running water, the shower, bath or swimming pool.