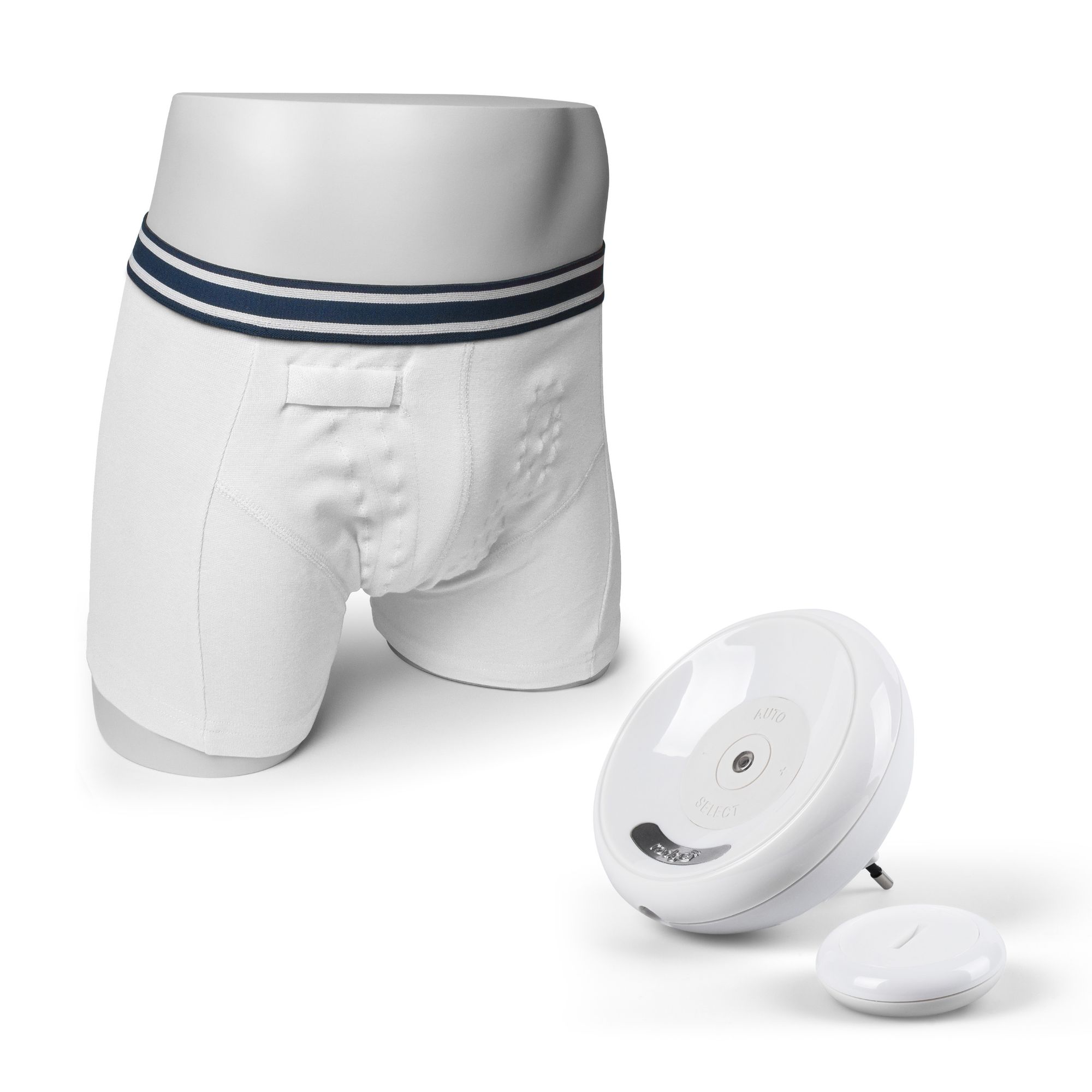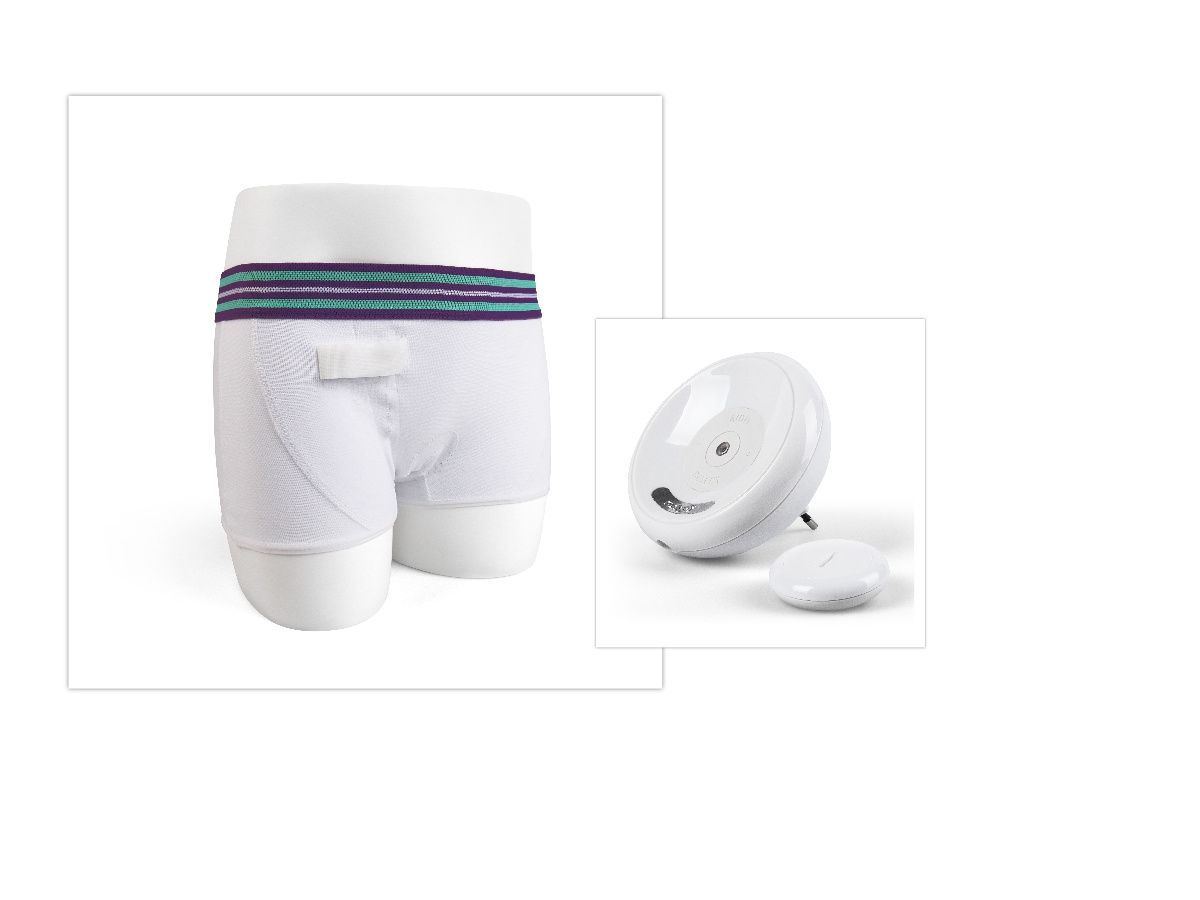 What age is the Rodger Wireless Enuresis Alarm Intended For?
The Rodger bed wetting alarm is perfectly suited for use by children from the age of 5 (this being the age at which it is expected that a Child no longer wets the bed) through to and including Adulthood.
Is the Rodger Wireless Bed Wetting Alarm safe?
YES! - The Rodger Wireless Bedwetting Alarm transmitter uses a small 3v CR2032 button cell battery (like a key-fob battery) that supplies only a very low current and even if the transmitter does get moisture on it, will remain safe.
How does the alarm turn off?
The small transmitter attaches to the special pants via 2 press studs so that it is ready to detect urine. When the transmitter has been triggered by the moisture, the receiver will continue to sound until the transmitter has been removed from the wet underwear and the reset button on the receiver has been pressed. This switches the alarm off and also resets it again.
What kind of power does the Rodger Wireless Bedwetting Alarm use?
The battery in the transmitter is 1 x CR2032 (supplied). The power for the Receiver is either mains via UK Plug, or if preferred and especially useful for holidays i.e. camping, this can alternatively be powered by 2 x AAA batteries.
How are the Special Sensor Pants washed?
The underwear are fully re-useable, made from cotton and can be Machine Washed at 60 degrees and Tumble Dried.
How long does treatment take with The Rodger Wireless Bedwetting System?
Typically treatment takes 3 to 6 weeks, but as with the treatment of any condition there is a great deal of variability. e.g., some children will respond and be finished with treatment within a week, a larger group take 3-6 weeks and a small group takes longer.
Is The Rodger Wireless Bed Wetting Alarm suitable for use by a deaf or hard of hearing child?
YES! - For children who are deaf or hard of hearing, a vibration cushion is available to order - please call us if you wish to discuss or order this accessory.
The Underpants are not as sensitive as they were originally. One has stopped sensing moisture completely - although the alarm works fine. What is wrong?
Over time, residue may build up on the sensor contacts inside the brief and reduce the ability to quickly detect moisture or cause it to stop sounding. This may be due to your water, detergent or urine - or a combination of these. The same issue occurs with other alarms too. You simply need to soak the sensor pants in vinegar or OxyClean solution to restore their sensitivity. Follow the steps below:
Fill a bowl with approximately 3 cups of warm water
Add either 1 cup of vinegar or 1/2 cup of OxyClean
Place brief(s) in the solution and let sit for 1 hour
Remove briefs from solution and launder and dry. Do Not Wring Dry.
Test
Care Instructions
Remove transmitter from briefs. Machine wash briefs in warm water. Do not use fabric softener. Tumble dry on low heat or air dry. DO NOT WRING. DO NOT WASH TRANSMITTER. Wipe transmitter clean with damp cloth and air dry.
I live outside the UK & Ireland - Can I still Purchase The Rodger Alarm From You?
We are also able to supply the Rodger Alarm unit to some overseas customers, please check the drop-list at checkout of available countries, but it must be noted that as we are the UK supplier the alarm will come with the UK plug version, but the alarm can be used either with an adapter suitable for use in your country or batteries. Customers outside of these countries please send us an email telling us which country you live in, we will then forward your enquiry to your nearest supplier.
Returns :
If you decide against your purchase then this is a very tricky area...
BUT.... There is a VERY good reason for this.....
Due to the sensitive nature of the product, I have to be certain that all my customers feel confident that the product they are purchasing is brand new, and could never possibly have been used, which I am sure you will agree, is very important. If you thought for one minute that the alarm you were purchasing may have been used by someone else, I feel certain that you would not purchase it.... I know I certainly wouldn't!
What I can do under these circumstances, is offer to refund you for the unused Receiver and Transmitter only.
ie. You can return just the Receiver and Transmitter within 7 days of receipt unused and complete with the box and instructions, but you would need to keep the pants. We would then refund you the cost of the set minus the cost of 2 pairs of pants upon the safe return of the Receiver and Transmitter. Postage costs would be bourne by the customer. The above condition regarding the return of the underwear is non-negotiable, so please do not ask for 'special consideration' as refusal often offends.
Warranty:
We undertake the following guarantee obligations. If within 12 months after receipt of the alarm device by the purchaser, manufacturing faults are established - at our discretion - these aforementioned faults shall be repaired free of charge. We shall not be liable for more or other than the aforementioned guarantee obligations. Return costs are bourne by the customer, and we strongly recommend the use of a track-able means of delivery, as we cannot be held responsible for items not received. The underwear is considered to be a consumable item and as such it carries a 3 month warranty after which time it may need to be replaced.
The Guarantee is only valid if the below-mentioned conditions have been complied with :
You may only make a claim to the aforementioned guarantee if you have the original receipt.

The guarantee obligation expires if the device or its components are not used in accordance with the instructions for use or if inexpert repairs are made to the device or it components.

We will not replace or repair the Device or its components if the fault is due to accidental damage or from misuse.
Privacy Policy
We are committed to protecting your privacy. We will only use the information that we collect about you lawfully (in accordance with the Data Protection Act 1998).
We collect information about you for 2 reasons: firstly, to process your order and second, to provide you with the best possible service.
We will not e-mail you in the future unless you have given us your consent.
We will give you the chance to refuse any marketing email from us in the future.
The type of information we will collect about you includes:
your name
your address
your phone number
& your email address.
We will never collect sensitive information about you without your explicit consent.
The information we hold will be accurate and up to date. You can check the information that we hold about you by emailing us. If you find any inaccuracies we will delete or correct it promptly.
The personal information which we hold will be held securely in accordance with our internal security policy and the law.
If we intend to transfer your information outside the EEA (European Economic Area) we will always obtain your consent first.
We record IP addresses to help us track the demographics of visitors
(which country they are from, which ISP they are using, etc).