1. GIRLS WHITE HIPSTER - UK Version Complete Latest 8 Tone Rodger Wireless Bedwetting Alarm System
---
1. GIRLS WHITE HIPSTER - UK Version Complete Latest 8 Tone Rodger Wireless Bedwetting Alarm System
£120.00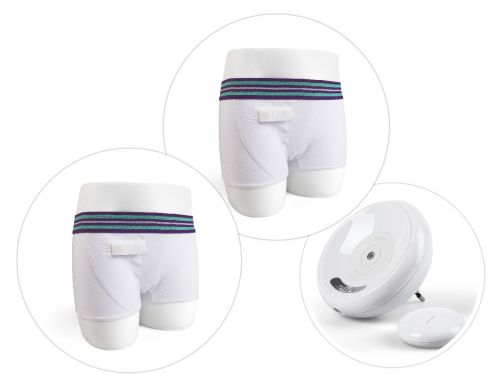 Rodger Bedwetting Alarm System - Kit comes complete with : 8 Tone Variable Volume Alarm Receiver with UK plug, Wireless Transmitter, 2 x GIRLS White Hipster underwear, Instructions, Progress Chart & Stickers.
The wireless bedwetting alarm system is a simple and pro-children aid to solve the problem of bed wetting . Your child wears the special underwear with invisible processed wires. You then attach a tiny transmitter to the underpants.
When your child wets a few drops, this transmitter sends a signal to the alarm receiver, which wakes your child up. This is how your child is trained to recognize the signal of a full bladder and should be cured of their bed-wetting problem in a matter of weeks.
Please choose the size required carefully, as for hygiene reasons, the pants cannot be returned for refund or exchange.
In order to offer the clearest sizing information possible, the sizes listed below show the waist size from an unstretched to a stretched state.
| | |
| --- | --- |
| Waist 19 - 24" Height 116cms - Age 5/6 | |

| | |
| --- | --- |
| Waist 21 - 26" Height 128cms - Age 7/8 | |

| | |
| --- | --- |
| Waist 23 - 28" Height 140cms - Age 9/10 | |

| | |
| --- | --- |
| Waist 25 - 30" Height 152cm - Age 11/12 | |

| | |
| --- | --- |
| Waist 27 - 32" Height 164cm - Age 13/14 | |